The Next Stop: Lakewood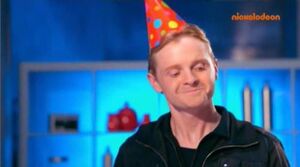 Season:
1
Episode:
25
Director:
Jon Rosenbaum
Writer:
Max Burnett
Original air date:
April 16, 2010
Production No:
126
Previous Episode:
Next Episode:
Gus is back from the mental hospital and he plans on destroying the Troop and taking over Lakewood. But in order to do this he kidnaps Mr. Stockley, to enter headquaters and release all the captive monsters.
to be added
Appearances
Edit
Characters
Edit
This is Gus's third and possibly last appearance.
This is the season 1 finale.
Nickelodeon promoted this episode under the title "Countdown to Chaos".
It is rather strange that the three monsters which Gus caused to attack the mental institution are considered three of the deadliest monsters known.
[Fraido is hacking into the Troop Grid]
Fraido: "Something is missing."
Gus: "What?"
Fraido: "Your not wearing your party hat. I will not work unless you wear your party hat!" [Gus sighs frustratedly, then puts on a birthday hat]
Gus: "Happy?"
Fraido: "Yeah."
---
Gus: "I know that you feel fear at the sight of me ... now that I have the power!" [Felix snickers] "What, you think this is funny? You think this is some sort of party?!" [Jake and Hayley snicker too. Gus realises why] "I'm still wearing the hat, aren't I."
---
Felix: "Hayley, have you ever been hit by a frozen T-shirt?"
Hayley: "I'm not sure with the answers."
Felix: "It stings you twice. Once when it hits you, and second when... everyone laughs."
---
[Mr. Stockley arrives covered in Gelatinous Cube goo]
Mr. Stockley: [Holds up his goo-covered shoe] "My momma gave me these!"
---
Jake: "You're not gonna get away with this, Gus!"
Gus: "IT'S AUGUSTUS!!!" [puts on Mr. Stockley's Troop ring] "And I already have ..."