"A rhino-sized monster, the Ratadon loves nothing more than to bash and mash down anything in its path. Its greatest enemy is the Gibbering Troolis, and if these two monsters begin to fight, it's almost impossible to stop the destruction."
―The Troop official site's description of the Ratadon
Ratadon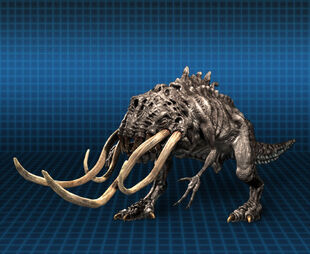 Appearance(s):
Height:
4'-6' high; 7'-12' long
Weight:
1000-2000 lbs
Special Abilities:
If disturbed, will gore or stamp to death its foes

Ratadons are large, destructive monsters, and natural enemies of Gibbering Troolises. Helmatrops are a type of Ratadon.
At an unknown point, a Ratadon was captured by the Lakewood Troop.
It is among the captive monsters which escape courtesy of a power failure. It is seen escaping with the other monsters.
It is attracted to Hayley's haunted house by the call of a Gibbering Troolis, where Phoebe mistakes it for Felix in a Halloween costume. The Ratadon quickly takes her candy from her and retreats to the basement, where it is trapped inside with the Troolis and Phoebe. The two monsters are beaten up by each other and Phoebe takes back her Halloween candy.
The two monsters were presumably recaptured soon after with the other monsters.
A Ratadon attacks Jake, Hayley and Etienne on a high rooftop. Hayley uses a plank of wood to keep the Ratadon at bay, until it attacks Jake and jumps at him. However, Jake ducks out of the way, causing the Ratadon to fall off the rooftop to its death.
Behaviour
Edit
When a Ratadon is disturbed, it will gore or stamp everything in sight to death. It is also natural enemies with the Gibbering Troolis.
Appearance
Edit
Ratadons resembles large, dinosaur-like creatures with four elephant-like tusks. According to Phoebe, the breath of a Ratadon smells like "cheese and tyres".
Special Abilities
Edit
The Ratadon is very strong and powerful.
The Ratadon is very similar in appearance to its cousin, the Helmatrop.
Phoebe stated that the breath of a Ratadon smells like "cheese and tyres."
If one looks closely, the Ratadon's file on Troop Grid depicts it as a more-rodent like creature with fur and a less skeletal appearance.