"Also known as a Splat. A slug-like creature whose size reaches anywhere from 2 - 8 feet long. It is very elusive due to its incredible ability to camouflage itself to any surrounding. However, when it attacks (using its razor-sharp teeth), its colours become very bright, much like those of the rainbow."
―The Troop official site's description of the Oscillating Rainbow Slug
Oscillating Rainbow Slug (Splat)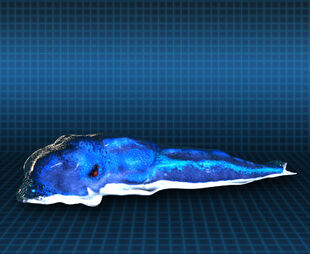 Appearance(s):
Height:
0.5-8 feet
Weight:
70-85 lbs
Special Abilities:
Camouflage
Razor-sharp teeth

Oscillating Rainbow Slugs, also known as Splats, are slug-like monsters with razor-sharp teeth which can change color.
At an unknown point, an Oscillating Rainbow Slug was captured by the Lakewood Troop.
The captive Rainbow Slug tries to leap out of its cell to attack Jake through the ceiling, but is unable to do so due to the glass.
An Oscillating Rainbow Slug is among the captive monsters which escape courtesy of a power failure. It is seen escaping with the other monsters.
It was presumably recaptured.
Appearance
Edit
Oscillating Rainbow Slugs are foot-long, blue, slug-like creatures with tiny red eyes and white undersides.
Special Abilities
Edit
Oscillating Rainbow Slugs have razor sharp teeth and can change their colour to perfectly camouflage themselves.
to be added