"These Class 1 burrowers live underground and, while technically blind, are acutely attracted to vibrations. They are extremely dangerous and hard to kill."
―The Troop official site's description of the Mongolian Death Worm
Mongolian Death Worm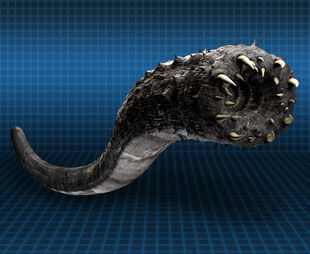 Appearance(s):
Height:
20'-40'; 50'-300' in length
Weight:
7500-25000 lbs
Special Abilities:
Class 1 burrower

Mongolian Death Worms are giant, worm-like monsters and Class 1 burrowers. They are sensitive to vibrations and are known to eat humans.
A Mongolian Death Worm is attracted to a construction site by vibrations from a jackhammer, and eats one of the workers.
Felix plans to use vibrations from a washing machine to attract the Death Worm and blow it up. The plan works, but unfortunately, three pieces of the Worm's body remain and each grow into a new Mongolian Death Worm and escape underground.
That night, the three new Death Worms are attracted to Lakewood High during the Senior Dance by the loud-speakers, where Felix electrocutes them, reducing the Worms to ashes.
A Mongolian Death Worm is among the captive monsters which escape courtesy of a power failure. It is seen answering the Troolis's call. It was presumably recaptured with the other monsters.
Behaviour
Edit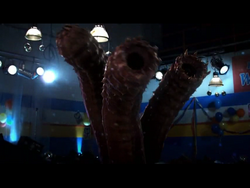 Mongolian Death Worms are carnivorous and attracted to even the slightest vibrations. Once they detect vibrations, they will take the source to be prey, and either drag the source underground and devour it, or burst to the surface to devour the source.
Appearance
Edit
Mongolian Death Worms resemble giant, red worms with sharp teeth.
Special Abilities
Edit
The Mongolian Death Worm is a Class 1 burrower which is very sensitive to vibrations; and any pieces of a Mongolian Death Worm's body remaining if it is killed will grow into new worms in under a minute.
Weaknesses
Edit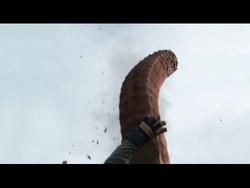 Mongolian Death Worms are blind, and are vulnerable to explosions and electrocutions.
The Mongolian Death Worms in the show are much bigger than the ones sighted in real life.
The Mongolian Death Worms from the show are similar to the Graboids from Tremors.
The Mongolian Death Worm's profile on the Troop Grid states that there are no monsters of this species in Troop captivity. However, one was captured by the Lakewood Troop before The Great Punkin.
The Mongolian Death Worms are one of the few monsters to kill a human onscreen