"The most famous of these is known as the Loch Ness Monster (or Nessie) who was captured and later released in 565 A.D. Because they are fairly gentle and able to hide well, Hydrodragons have been sanctioned by The Troop to live among us. Other Hydrodragons are known to their regions by the following names: Ogopogo, Cressie, Mussie, Kingstie, Mugwump, Lizzie and Champ. "
―The Troop official site's description of the Globular Hydrodragon
Globular Hydrodragon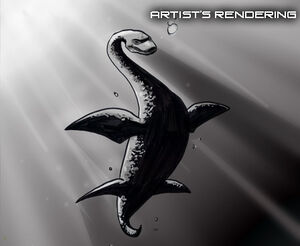 Appearance(s):
None
Height:
45 feet high, 150 feet long
Weight:
30,000 lbs estimated
Special Abilities:
Aquatic
Fast swimmers
Vegetarians
High intelligence

Globular Hydrodragons are intelligent, elusive, plesiosaur-like monsters. They are herbivores, fast swimmers, and relatively benevolent creatures. Because they are able to evade being sighted, and do not pose a threat to humans, Hydrodragons were sanctioned by the Troop to be allowed to live among humanity as of 565 AD. Most plesiosaur-like cryptids are Globular Hydrodrags, such as Champ, Lizzie, Mussie, Kingstie, Cressie, Mugwump, Ogopogo and the Loch Ness Monster.