Etienne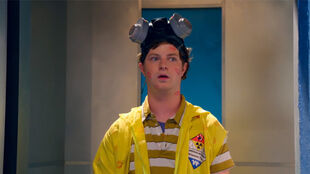 Species:
Human
First Appearance:
Potrayed by:
Eduard Witzke
Likes:
Hayley
Possibly Angie
Felix
Drama
Himself
Cecillia
Girls
Gas Leak (band)
Dislikes:
Jake
Family:
No known relatives
Other Relationships:
Hayley Steele (crush)
Angela Crabtree (possible crush)
Etienne is a funny and rather odd student who finds himself in the middle of many of episodes' action and was the school news cameraman. He is constantly hitting on Hayley and may have a crush on Angie. He temporarily joined the Troop in Oh, Brother, but was Snarked after Kirby returned in Through the Looking Glass. He also had a crush and breifly dated Cecillia.
Etienne has been Snarked more times than any other character (with the exception of Mr. Stockley in A Moth to the Spotlight).
It was revealed in Eris Returns that Etienne is afraid of hights to the point that they make him faint on the spot.