"Although Dragons roamed the earth in earlier days, Troops have been able to keep them in their own world in modern times. They are noble, majestic beasts and have long been protected by the Troop when they do cross over into our world."
―The Troop official site's description of the Dragon
Dragon
Appearance(s):
Height:
2'-30'
Weight:
200-40,000 lbs
Special Abilities:
Fire breathing or electric breathing, depending on breed

Dragons are massive, majestic, flying monsters which can breathe fire.
A baby Dragon later named Sam appeared in a forest.
Jake, Hayley and Felix shortly after make a failed attempt to capture him which results in Phoebe finding, naming and adopting him.
Due to an event which happens once every 10,052 years, Sam grows into an adult Dragon in a matter of hours, and burns and destroys much of Pheobe's room.
When Jake, Hayley and Felix discover Sam, they take him into Troop custody, and when Felix attempts to take a scale from him with which to locate the portal he came through, Sam constantly attempts to kill Felix with his fire breath until Phoebe calms him down.
The Troop and Phoebe, using Sam's scale, locate the portal (which has remained open due to the presence of a Dragon in the human world, namely Sam and his mother) and drive him to it in the back of the truck, despite attacks from his mother, who followed him through the portal.
Sam then follows Phoebe from the truck to the portal, protecting her from his mother's attacks. Sam's mother then returns through the portal to the Monster World. Phoebe kisses Sam goodbye on the forehead, before he returns through the portal to the monster world, where he belongs.
In the Monster World, several monsters, including a Dragon, attack and corner Jake, Hayley and Cadence.
Cadence distracts the monsters long enough for Jake and Hayley to sneak past them to a portal. When the monsters notice, they launch an attack and chase after the three. However, the three escape through the portal, which closes behind them before the monsters can follow them through.
Behaviour
Edit
Dragons imprint on the parental figure that raises them as their mother, and will be dangerous and easily provoked by any other creatures. They are also implied to have a human or near-human level of sentience.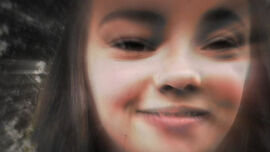 Appearance
Edit
Dragons are giant, horned, fire-breathing reptiles with wings.
Special Abilities
Edit
Dragons are large and powerful, breathe fire, shed scales which cause bad luck, and get warmer as a Dragon gets closer to a portal between the two worlds. According to the Troop official site, there is also a sub-species of Dragon which breathes electricity instead of fire.