"Living in the depths of lakes and lagoons, these angry beasts do not like to be disturbed. Their first attack is a fine mist that dissolves all clothing. Their second attack is to eat you. Few Troop members have ever survived an attack of the Borlak."
―The Troop official site's description of the Borlak

Borlaks are aquatic monsters which dwell in lakes and lagoons.
Laut Hayley ist noch nie vorher ein Borlak von einer Troop gefangen worden und alle, die es versuchten, sind getötet worden
The Lakewood and Japanese Troops both tried to capture the Borlak, but it proved highly elusive. By working together, they eventually succeeded.
The Borlak is released by Fraido and Gus along with the other captive monsters. It was presumably recaptured.
In the Monster World, several monsters, including a Borlak, attack and corner Jake, Hayley and Cadence.
Cadence distracts the monsters long enough for Jake and Hayley to sneak past them to a portal. When the monsters notice, they launch an attack and chase after the three. However, the three escape through the portal, which closes behind them before the monsters can follow them through.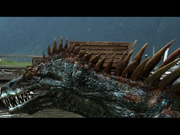 Appearance
Edit
The Borlak resembles a dinosaur with blue skin, and yellow spines.
Special Abilities
Edit
The Borlak has powerful jaws, is an impressive aquatic swimmer, and it produces a vapor from its mouth that dissolves clothing like acid. The mist can also dissolve cement.
It was inspired by "Godzilla", a famous Japanese monster.